Time and Attendance Benefits
Learn how tracking time and attendance can benefit your business.
Save time and money while improving productivity with comprehensive time management software. Track time and attendance for your business using our comprehensive payroll services database.
Have a question? Contact us instead.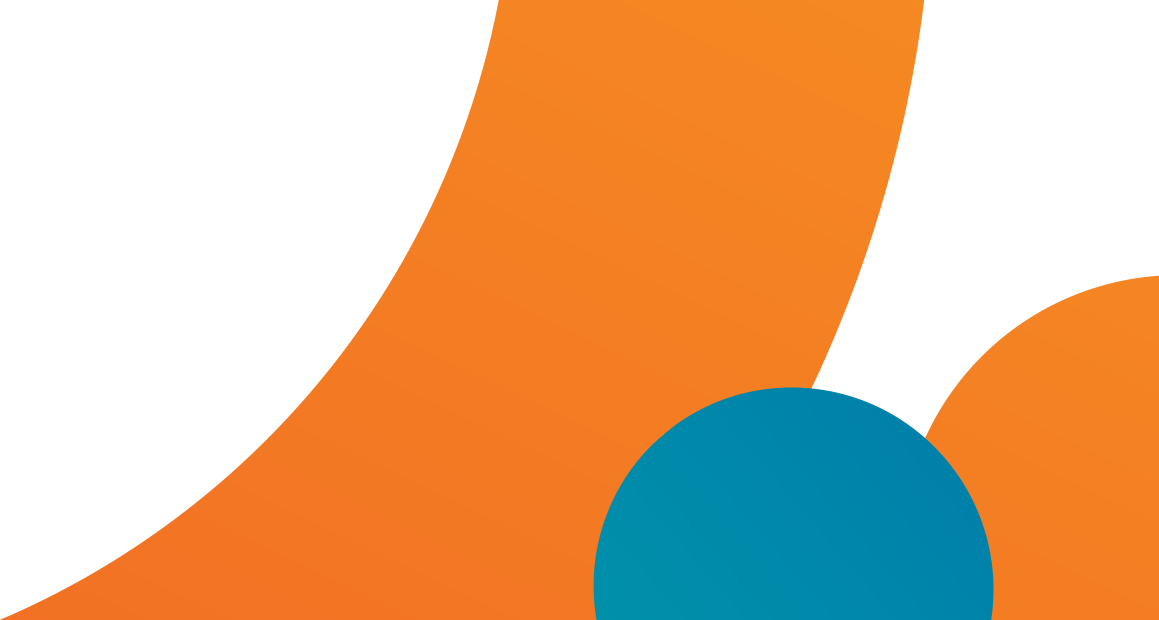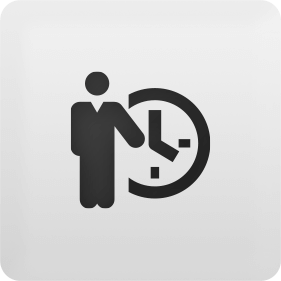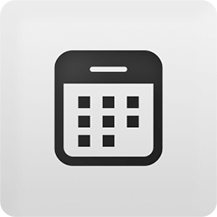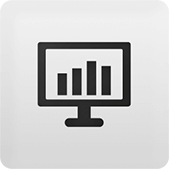 Benefits of using a time management software
With the time management software from Connect & Simplify, you can efficiently:
Improve productivity
Track and control labor costs
Utilize time collection devices: cell phones, computers, and time clocks
Monitor and respond to time-off requests
Involve employees in scheduling and time-off requests
Manage schedules
Save time and money
What is the time collection solution?
Connect & Simplify helps you manage your company's time through efficient and rich software. You only need a single database for time collection, scheduling, accruals, and payroll services. Having everything in one place will help to eliminate data entry errors and can help you connect to other payrolls. This method of time management is the perfect solution for small and large businesses to keep your labor costs in control and accuracy.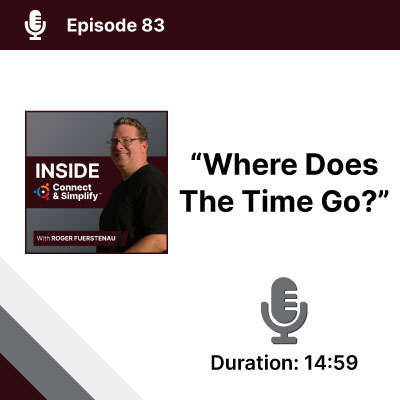 Where Does The Time Go?
Transcript:
Where Does The Time Go
This podcast was recorded at Connect & Simplify™ HQ in Wisconsin. We help hundreds of businesses (nationwide) with their time and attendance tracking needs. For many businesses in the 50-250 employee range, Connect & Simplify™ is a profitable or more effective alternative to full-time employees dedicating all or some of their time to managing the chaotic and complex problems time and attendance tracking brings.
Connect & Simplify™ — making time and attendance tracking easy
Where does the time go? Measuring time is a huge component of a successful business. Time is money. Keeping track of your employee's time factors into so many aspects of the company's success, including productivity in the budget and paying employees properly. Roger here, human capital management consultant, marketing guide, and podcast host for this episode of Inside Connect & Simplify™, sponsored by The Benefit Companies.
Today, we're going to dig into time and attendance, including time worked, attendance, time off, shifts, oversight, and scheduling. And joining me to talk about all things regarding time and attendance is Barb, subject matter expert in payroll and time and attendance. Barb has been with The Benefit Companies team for over 20 years and is our go-to teammate for all things payroll, and time and attendance. Thanks for being here, Barb.
Thank you, Roger, for inviting me. It's my pleasure.
Managing time and attendance tracking
So let's start at the beginning. We're not talking about payroll and getting our employees paid correctly. We're talking about collecting and managing the information of when and where an employee is working to do the math to get to a paycheck. Barb, what is time and attendance, or as some people call it—time labor management?
Tracking time and attendance is workforce management. That is managing employee hours worked along with attendance, late arrivals, leaving early, etc. Time labor management, expand that definition. Tracking the type of work or projects the employee is doing, vacation and sick, or PTO accruals, also takes into account an employee's shift scheduler and any shift differentials, and it helps manage and control overtime.
Time and attendance tracking with punching in and out
Okay, thanks for that. So in my world, it all starts with punching in and out. Describe the various ways employers are having employees punch.
Well, let's start with the basics. I like to ask employers "How do you collect employees hours worked?" Let's remember Roger that not all employees punch. Many employers are still tracking time and attendance manually by having employees record their hours on a paper timesheet or paper timecard. Some of the other ways employees record this information are at a traditional time clock. Could be a green punch clock, a badge reader (when an employee swipes the badge), a four-digit PIN entry on a keypad, a biometric finger or hand reader, and most recently Roger, on a PC, tablet, and sometimes a smartphone.
Summarizing attendance and time tracking data
With various ways to punch, there must also be various ways to collect and summarize the hour's work and then get that moved to the payroll system. Tell us about moving that information?
That's a great question, Roger. Sometimes employers export a report from their time management software in Excel format, and they're able to import that information into their payroll systems. In other cases, the employee will have to rekey that information manually, which causes a risk for data entry errors.
Transitioning from conventional time tracking methods
So for companies looking to move from a manual process or an out-of-date time and attendance system, what should they be looking for in a new system?
With today's ever-changing workforce, employers should look for flexibility. When looking for new time management software, here are a few of the things they should look for in a system that allows for different methods of recording hours. Remote workers may need to record hours from their home PCs. In-office staff may need to use their office PCs and or time clock sometimes more than one device for more than one location. Service technicians on the road may need to record start and stop times on their various clients throughout the day on their company smartphone or tablet, and record their travel time from one stop to the next.
Rule flexibilities with time and attendance tracking software
With today's GPS and geo-fencing, or as I like to say breadcrumb trail technology, it's easy to verify where remote employees traveled during the day. We have a multistate client where this was a huge issue for them before they switched to our Connect & Simplify™ human capital management system. Employers should also look for a system that has flexibility in establishing rules for tracking vacation and sick accruals, PTO balances, and leaves of absence.
Many employers have specific ways of awarding time off to employees. Sometimes it's a block of PTO or paid time off at the beginning of the year. Sometimes it's by the employee's anniversary date of hire or seniority. And sometimes, it's accrued by hours worked. Many times employers have a policy for PTO carryover. In other words, time is leftover at the end of the calendar year. Some employers have a use it or lose it policy, while other employers allow employees to carry over a limited number of hours from the previous years. Often employers have exceptions to their policy for longtime employees, who have grandfathered PTO, or new hires that have negotiated PTO.
Customized time and attendance tracking solutions
No matter how early employers award time off, they should look for a system that allows employees to request time off for their manager's or supervisors' approval. This helps everyone in the organization. Managers and supervisors can approve or deny the request if too many employees are off with an outboard the front desk can see who's in the office or out. The employees like this because they see their time off-balance in real-time and co-plan vacations with their families from home.
Organizing how time tracking is handled
Can you describe some of the other features a time management system is or should be capable of?
Other features employers should look for is the ability to track labor by department or cost center, especially in today's workforce, where employees who wear multiple hats move from one department to another. Production to shipping for example, or cashier to floor associate in a retail setting. Scheduling is another important area. Some employers have a basic need for schedules, while other employers such as long-term care providers have advanced scheduling needs. They need to schedule teams of people with specific training and certifications to comply with federal regulations.
Integrating time and attendance management with payroll
So in our world, we like to integrate, so be specific on why time and attendance, and payroll need to or should be integrated.
Attendance and payroll need to be integrated to make sure you pay employees properly including overtime. This avoids trouble with the DOL or Department of Labor. It also avoids the he said she said controversy if an employee separates from your company.
Connect & Simplify™ integrates time and attendance tracking tech
So how do our time and attendance technology integrate with our human capital management platform Connect & Simplify™?
Our time data is housed in a single database in our Connect & Simplify™ human capital management platform. This makes it easy and accurate because there is no export, import, or data entry needed. The information is already there, ready for managers to approve timesheets, and then ready for payroll to process paychecks.
Where other companies fall short in time and attendance tracking
So where do you see other vendors in this space fall short regarding integration?
Many times competitors will claim to have a single platform, but clients will still have to import or export data from time and attendance into payroll. Sometimes this is through the use of third-party vendors, which can create finger-pointing issues when support is needed. Sometimes an employer will need to change their rules and policies to mesh with the new time system they are considering.
Get in-depth training and support for time tracking
Another area that falls short of our competitors is implementation, training, and support. As a company that specializes in human capital management consulting, we have subject matter experts who know the right questions to ask before we tackle a project. To understand the project scope and the level of detail needed for implementation, we stay with you during implementation. We offer full training before, during, and after your project. And we offer ongoing support when needed.
National competitors like ADP or the pays such as Paychex, Paylocity, Paycom, or Paycore don't come close to the level of detail and attention we provide our clients. We know our clients by name, we don't use a call center or a call queue, and we answer and return calls promptly. Once we have an agreement from an employer to move forward with their project, we add the employer to our weekly client implementation meeting agenda.
Improve your time and attendance tracking process with Connect & Simplify™
That's right, Roger. We discuss all active implementations every week with our teams on Thursday afternoon. But no, I'm there. I'm in the meetings. But you're right. I don't know anybody else that does that. So in your experience, how can our human capital management platform Connect & Simplify™, be an optimal solution for a company looking to improve its processes?
Our human capital management technology is the best in class. Our partner is Kronos, now UKG, a cloud-based industry leader with over 50 years of history and time and attendance. UKG's fiscal year 2021 revenue was over $271 million. And they have over 35,000 different companies using their platform. Our human capital management system is modular, encompassing payroll, time labor management, and five HR components: talent acquisition and applicant tracking new hire onboarding, benefits administration and online enrollment, performance review management, and compensation management. We offer employers a choice, they can start with one or more modules and add others later, or start with a full suite bundle and implement according to their priorities.
How to choose a time and attendance tracking vendor
I would think you could give a comprehensive list but what would be your top five questions if you were vetting a time and attendance vendor?
Only five? Roger, that's a tough one. I would ask how long have they been in business? How many employers use their system? Is their solution cloud-based? And is there a mobile solution? How do employees record hours worked and describe their implementation training and support process? As I stated earlier UKG is cloud-based technology, with over 35,000 employers using the system. We offer flexibility and recording hours worked. And we offer a best-in-class mobile solution. As a company, The Benefit Companies has been providing employee benefits and services to employers for over 47 years.
So time and attendance is more than a punch of a time clock. And we know from experience that our technology is nimble and flexible enough to handle complex scenarios. Our design team knows to build successful solutions and the implementation team gets our clients well versed in short order. For what kind of timetable are we looking for if we're bringing on new clients to our time and attendance solution?
Timetable for onboarding new time and attendance tracking clients
Thanks, Roger. That's another very important consideration. For reference, we like to say usually six to eight weeks. That timeline varies depending upon how complex the system build needs to be, and the client's timetable.
Industry trends in tracking employee time and attendance
Okay, so the last thing, we've covered a ton, thank you for that. Is there a trend or trends in managing the time that you have seen that is gaining traction that might be worth mentioning?
Yes, managing time is not just for hourly employees, we see more and more employers recording time for salaried employees. Knowing when the employees are working is important for many reasons, tracking employee benefit plans, and 401k plan eligibility, Affordable Care Act data, and for workers' compensation benefits in case of an injury claim.
Barbara excellent work today educating me in the world on time and attendance. Thanks for being here.
Connect & Simplify™ — the time and attendance tracking solution your business needs
You're welcome, Roger. My pleasure. For more information on time and attendance, human capital management, and all the ways we build solutions for employers and their companies. Go to connectandsimplify.com to reach Barb directly to discuss time and attendance or payroll pain relief. Call her at 262-207-1999 extension 217. Thanks for listening, be well.
Find our podcast Inside Connect & Simplify™ and all of the following places so you can listen anytime, anywhere. You can also find us on Alexa, Apple Podcasts IHeart Radio, Spotify, Amazon Music, Listen notes, Google Podcast, Pandora, and Podbean. Thanks for listening.
Frequently Asked Questions
The cost of a time tracker is about $4 per employee per month. Time tracking systems take into account the system's functionality and capabilities:
Data
Attendance
Attestation
Configurable workflows
Ad hoc reporting
Time clocks
Employee self-service
Time-off requests and approvals
Exception management
Points system
Scheduling
Pricing may include:
Per employee/month with minimums
Configuration set up fees
Support billing
Dedicated training for employees, managers/supervisors and administrators