Connect & Simplify Makes a Difference
Tailored Services to Meet Client Needs
Connect & Simplify, Inc. is a service of The Benefit Companies, Inc. Our Human Capital Management software is a single platform solution powered by Ultimate Kronos Group (UKG). We have subject matter experts in:
Financial planning
Business insurance
We help employers reduce costs, save time, and improve service for their employees. Contact Connect & Simplify today to learn about what we can do for you.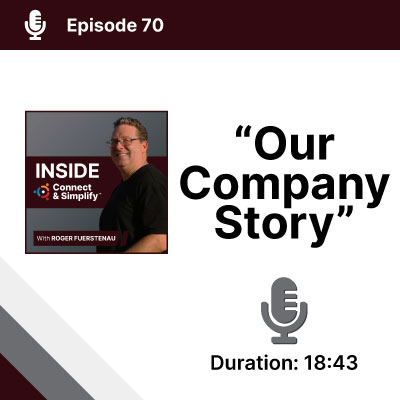 Our Company Story
Transcript:
How a Wisconsin Payroll Company Can Help Your Business Grow
This podcast was recorded at Connect & Simplify™ HQ in Wisconsin. We are a payroll company that helps hundreds of businesses in Wisconsin (and nationwide) with their payroll needs. For many businesses in the 50-250 employee range, Connect & Simplify™ is a payroll company alternative to full-time employees dedicating all or some of their time to managing the chaotic and complex problems of payroll. Contact us for a FREE consultation.
The Origin of the Wisconsin-based Payroll Company
As a Wisconsin-based payroll company, Connect & Simplify began offering payroll services over 20 years ago. We process about half a billion dollars a year for companies across the state and the nation. Other than payroll, Connect & Simplify offers a handful of human capital management services on a single platform powered by Kronos. Our goal is to save you money, boost employee morale and help you focus on what's important: your business.
Listen to Roger Fuerstenau, joined by Kathy Tunney, our Vice President of The Benefit Companies, Inc., break down the fundamentals of employee benefits, retirement plans, payroll, time-labor management, HR services, ACA compliance, and business insurance. Hear how The Benefit Companies got started, where we are now, and how we plan to continue into the future. Learn how our HCM (human capital management) system does all the things and our subject matter experts are ready to help your business grow.
Outline:
How Connect & Simplify does all the things for human capital management.
Connect & Simplify started in the employee benefits area but grew to accommodate payroll, time management and HR.
How we help employees understand the importance of retirement benefits and time and attendance.
Why having an HR specialist for any size business is a great resource.
How ACA compliance influenced our decision to get into the benefits and insurance business.
Learn how we started our payroll company to provide accurate payroll processing to local Wisconsin businesses and beyond.
How our payroll company assisted with COVID payroll expenses and state local taxes.
How Connect & Simplify, using our new human capital management system, transformed company payroll services.