Connect & Simplify Makes a Difference
Tailored Services to Meet Client Needs
Connect & Simplify, Inc. is a service of The Benefit Companies, Inc. Our Human Capital Management software is a single platform solution powered by Ultimate Kronos Group (UKG). We have subject matter experts in:
Financial planning
Business insurance
We help employers reduce costs, save time, and improve service for their employees. Contact Connect & Simplify today to learn about what we can do for you.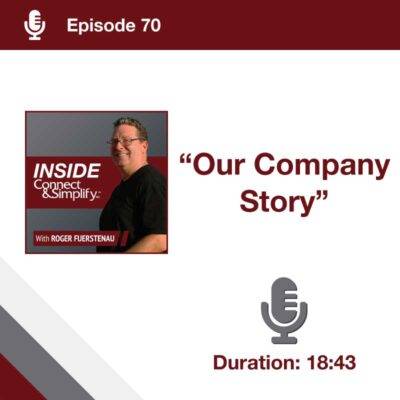 Our Company Story
Transcript:
Our Payroll Company's Services
This podcast was recorded at Connect & Simplify™ HQ in Wisconsin. We help hundreds of businesses (nationwide) with their payroll company needs. For many businesses in the 50-250 employee range, Connect & Simplify™ is a profitable or more effective alternative to full-time employees dedicating all or some of their time to managing the chaotic and complex problems of payroll.
Making company payroll management easier
Roger here, a human capital management consultant for The Benefit Companies. I just attended the Wisconsin Sherm conference, out of all my chats with attendees, one stood out in particular. This attendee told me what was going on in her world. I told her our payroll company's story, and she said, Wow, you do all the things that I thought about? I said yeah, we do.
How The Benefits Companies started in payroll.
So the Benefits Companies has been in business for 47 years. And if you think of us as an umbrella, nine companies underneath that umbrella provide products and services, specifically to the small and medium-sized business market. And you might say, Okay, well, what's small and medium-sized? We work with employers that have as few as two employees up to 1000s of employees, I would say the vast majority of the businesses that we work with, have somewhere between 25 employees, and 600 employees and they fall within the realm there.
We have nine companies, providing products and services for that business market, everything from employee benefits to retirement plan services, financial advice, and education. We do payroll processing and services for companies, Time and Attendance, ACA compliance and administration, HR consulting, human resources, and property and casualty insurance. This includes business and commercial insurance, general liability, worker's compensation, etc.
Entering payroll out of company necessity
We came into existence after the passage of ERISA in 1974, which was a landmark piece of legislation affecting the compliance and administration of Employee Benefits. Our owner started the company in two core areas, in the Employee Benefits area, and the retirement plan services area. And really what happened to us over the past 47 years, as we grew organically, we worked with customers on employee benefits and retirement plan services, 401(k) administration, and they said to us, gosh, you guys do a great job in these areas. Can you help us with payroll? Can you help us with time and attendance? Can you help us with HR? And so out of that request grew these other businesses.
We have two companies. Under that section, we have Benefits Inc. and Beneco of Wisconsin, which provide insured, fully insured, and self-funded coverages for health insurance for businesses to provide to their employees, dental insurance, vision, insurance, life, disability, accident, critical illness, long term care, those types of benefits. These are very important, very meaningful, especially coming out of a global pandemic. A lot of companies are focused on offering good benefits employee benefits for their employees.
Our company makes payroll easy to manage.
We started in the qualified retirement plan area. And we started working with companies on 401(k) administration. And we also have financial advice and education ARM. What we find when we work with our clients is that there's a gap of understanding in saving for retirement when it comes to employees. And so you might have an employer who wants to put in a 401(k) plan, encourage their employees to save for retirement super important, but a lot of times the employees don't understand the value. We have. Advisors go in and help employees understand we educate, and work with employees at a group and an individual level to help them understand how to work with the retirement benefits.
When I joined the company, one thing I didn't know anything about was time. I think there's a misconception sometimes with time and attendance that it's only for manufacturing companies. You know, it's the time clock, it's the old paper card, we put in a punch machine, all of that's changed. And what we've seen, and really where companies are right now, almost everyone is using time and attendance for the management of vacation time, also known as PTO paid time off. So we can be working with companies across the spectrum of industry, whether it's education, hospitality, nonprofit, municipalities, and of course, manufacturing. And they're using time and attendance to manage the paid time off benefits for their employees. But they're also using time and attendance to, in a lot of cases, manage projects within their company.
Payroll consulting streamlines company HR functions.
Alright, so on the HR side of the world, that's changed dramatically over the last, I don't know how many years but when I think HR thinking, somebody who's recruiting and bringing somebody on board, it's way more than that talking about HR. Our Benefits HR Company is probably one of the fastest-growing divisions in our organization. I think with the advent of government regulation and policies, being driven by multiple organizations, you've got EEOC, Department of Labor, Health and Human Services, the IRS, and a lot of different arms of the government writing rules and regulations that businesses of all sizes have followed.
We serve more than company payroll management.
So we do everything for an organization from as simple as maybe just making sure that their handbook is up to date, all the way to the opposite end of the spectrum, which would be very complex, difficult employee relations issues, and then everything in between. And we've got just a fantastic team of dedicated HR specialists that help customers and our clients navigate those waters. It's interesting in HR because we don't typically see a dedicated HR director position in a business until that company has somewhere between 100 to 150 employees. So until an organization is at that level, and then has that dedicated internal resource, they are the person handling a turn in the organization. It might be the owner, it might be a president, it might be a CFO, it might be the office manager, who, frankly, is doing a lot of things, and they're kind of winging it. So they love having a resource to be able to go to and bounce questions off of and get guidance important.
In reality, as some of our clients, we are their "HR department."
Payroll consulting for companies
Right, we do everything from consulting on a specific, from a one-off issue to being a dedicated HR resource for a client. You did mention rules and regulations and what came about probably most recently, the most, the newest company, if you will, would be the ACA compliance space. So talk about that.
That helped our decision to get into the business. Back after the Supreme Court in 2012 upheld the legality of the individual mandate, said that everybody had to be covered by insurance or pay a tax or penalty. And along with that individual mandate came something called the employer mandate, which required businesses with 50 or more full-time-equivalent employees to provide coverage that met certain government criteria. And not only did they have to provide that coverage, but if they didn't, they had to pay a significant penalty for not providing that coverage. And all of that had to get reported on an annual basis to the government.
Handling payroll regulations for companies
What's interesting about ACA is that the rules and the regulations governing ACA mirror the qualified plan area in the qualified retirement plan area. So there's discrimination testing. There's documentation, the need to document there's the need to track people who have 401(k) plans will understand this. A lot of times in 401(k) plans you track an employee's hours to determine if they're eligible to enroll in the plan going forward. The ACA works the same way. So a lot of that framework that we see on the 401(k) side is the same in ACA. So we felt like we knew to move into that space. And we knew that our clients were going to need help with that. So we launched that company in 2014, and it continues to be an important service for our clients today.
Our extension into company insurance offerings
P&C (Property & Casualty) side of what we do, right for businesses. So our BenePac division provides business and commercial insurance to companies. We provide everything from worker's compensation, by law you have to have it if you have a business here in the state of Wisconsin, to General Liability property insurance. A lot is going on in the world of business insurance right now, especially with the advent of technology. You've got policies, crime policies, for example, that can help protect an organization against crimes committed against, you know, somebody steals technology or uses technology to breach information of a business, it's important to have some of that type of coverage. We also work with a company that is in the media space, and having certain coverages to protect them from a media aspect, social media, television, and radio media is also really important. So having an arm of our company that can work with businesses, and the unique aspects of their business, to make sure that they're insured is important.
Company payroll processing nationwide
We started in the payroll space about 20 years ago. And we move about half a billion dollars a year in payroll for companies, predominantly here in the state of Wisconsin, but we process payroll in all 50 states. It's really important and anybody listening that has a business knows how important payroll accurate payroll processing is. We've got a lot of interesting things happening. With regards to payroll, I think the pandemic showed us that the government has figured out that a great way to be able to help employees quickly and employers for that matter is through payroll.
Recent changes in government payroll company management.
So one of the things that happened during the pandemic is we had something called FFCRA credits or family first Coronavirus credits. The government when the pandemic hit said to employers of all sizes, if you need to send people home for two weeks, because of COVID, we need you to pay them. And the best way to handle that was to have the company pay everyone. And then the government reimbursed the companies for that Payroll Expense when companies filed their quarterly payroll tax returns with the government. So it was an effective way to facilitate the movement of money so that employees could get paid and employers can get could get reimbursed by the government.
The other thing that's happening and payroll around the country that is interesting is we're starting to see in certain states, down to the community level, the municipality level, the inclusion of payroll taxes, and we're seeing it not necessarily here in the state of Wisconsin, but a lot of neighboring states. And it's a trend that's catching on. So the complexity for an employer is if you have an employee that lives and works in another state, you may have to file local taxes, in addition to state taxes. And unless you're working with a payroll bureau that understands that complexity, things can get away from you, and you can end up with tax notices, never a good thing.
Connect & Simplify™ is transforming company payroll.
So 47 years of doing business, we've been doing a lot of this. So we have subject matter experts in every one of these spaces, which kind of makes us a little different. In the last five years, we got to a point of going now there's a technology that goes on with this. We developed something that we now call our signature service.
Our signature service is something called Connect and Simplify™. And what we can do for our business clients is we can wrap all of these companies and all of these services into that Connect and Simplify™ service. So how it works is when we work with an organization on payroll, that's the hub of information, all of the employee data sits inside that payroll system, we have employee demographic information, we've got earnings information, we've got when an employer is hiring, we've got where an employer is, has employees leave the organization, and then we're able to take that information and apply it to these other services under our umbrella.
So when you work with us in payroll and benefits, and retirement, we're able to connect those things. When you have a new employee, we're able to help you get that person enrolled in the health insurance and dental and vision, life and disability, as in a 401(k) plan. So it helps those small and medium-sized businesses have all of these benefits.
Company human capital management service for payroll
It's where the technology is heading. And I'm glad that you brought that up. Because underneath our Connect and Simplify™ service lays an important piece of technology that is the support for our payroll services, and that is a technology that's called an HCM system or human capital management system. It is the foundational software that allows us to connect and simplify these services for our clients. And it's the technology that's going to take us into the future.
Alright, so thank you for giving us the picture of what we do here and how we got to where we are today. Inside Connect and Simplify™ is sponsored by The Benefit Companies and our trademarked human capital management platform Connect and Simplify™. Connect and Simplify™ integrates payroll time, labor management, human resources, retirement plans, and employee benefits in one single sign-on cloud-based platform. We help you manage your workforce from hire to retirement. Kronos is our technology partner who gives us the best in class, state-of-the-art technology so we can give our clients the best solutions for their company.