Blogs

What is human capital management (HCM)?
Human capital management (HCM) is a set of practices to hire the right people, optimize workforce management, and improve the overall productivity and efficiency of a business.
HCM has evolved from a mostly administrative human resources function to a tool for increasing a business' value. It considers the workforce as a core business asset - not simply a cost of doing business - whose value can be optimized through informed management and strategic investment.
What are the different elements of HCM?
Human Resources (HR)
The origin of HCM is administrative HR. In many ways, administrative HR functions such as payroll, benefit plan design, and training are still at the core of human capital management. But HCM takes it a step further, using human resources data to analyze and improve the workforce it's supporting.
Talent Acquisition
Hiring the right people at the right time will ultimately determine your business' success. Your talent acquisition process is critical to providing a quality product or service, building a strong brand and reputation, and achieving long-term growth.
An HCM system will help improve your talent acquisition by:
Increasing hiring speed and quality
Increasing engagement with work-life solutions to help motivate employees and improve employee experience
Retaining and developing talent through structured professional development and growth opportunities
Workforce Management
Workforce management is the process of optimizing your employees' productivity. These processes are designed to increase performance in a strategic, well-informed manner.
Some of the processes used to improve workforce management include:
HR management
New hire training
Performance analysis
Scheduling
Budgeting
Labor planning
With improved workforce management comes better time management, better workload forecasting, better allocation of resources, and an overall more productive team of employees. Contact Connect & Simplify for an integrated HCM solution for your business.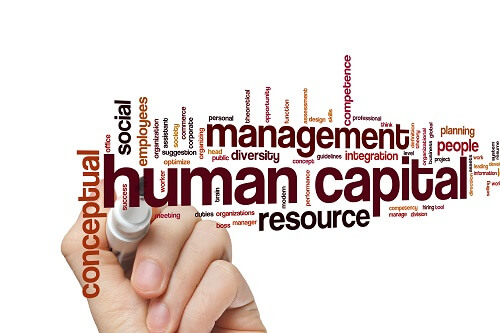 Human Capital Management (HCM) vs. Human Resource Management (HRM)
Human resource management (HRM) primarily includes the administrative functions of HR. These functions include maintaining employee records, benefits administration, and payroll.
Human capital management (HCM) includes the functions of HRM, as well as data analytics, workforce performance optimization, and other strategic functions.
Why is human capital management important?
Human capital management is important because it touches every functioning area of your business and affects every employee. A well-designed HCM strategy can also improve your business' ability to adapt to evolving market trends and advancements. Human capital management is the best way to optimize your workforce, making it one of the most important investments for driving the growth of your business.
What is human capital management software?
HCM software is an aggregate of information from different HR systems. Most HCM softwares, including Connect & Simplify, use cloud-based technology to process data into a user-friendly software, which can be used to monitor, organize, and optimize your workforce.
How human capital management software can help your business
The right human capital management software helps your business by providing an all-inclusive and intuitive platform to use your business' data to make the best possible decisions to improve productivity and effectiveness. HCM software will help you:
Secure data
Use your data to make decisions
Encourage business growth & increase profitability
Optimize talent strategies
Improve regulatory compliance
How to pick the right human capital management system
The ideal HCM system for most business owners includes everything they need in one place. Having a single hub for all your business' data is the most effective and convenient way to manage your workforce. All the data you need can be found in one software, where it's all connected.
An all-inclusive HCM system also only requires you to work with 1 vendor. This helps avoid having to make multiple phone calls to representatives at different vendors, and avoids the headache of having to coordinate with multiple vendors to get them to work together - which they may be unable (or unwilling) to do.
Choosing the right HCM vendor
Build a list of requirements you have in an HCM system. This will help you identify exactly what you need from a vendor.
Determine which HCM system covers most of the items on your list of requirements.
Talk with HCM system vendors to see if there are additional benefits of working with them (that aren't on your list). HCM vendors are not created equally!
If you are left with 2+ finalists in your search for the right HCM vendor, we recommend using their customer service quality as a tiebreaker.
Do you have to wait on hold?
How long do they take to handle your requests?
How equipped are they to help with other business functions?
Remember, the idea is to keep as much of the payroll, HR, & HCM functions off of your plate as you can, so you can focus on growing your business. The better an HCM platform is at keeping these problems off your plate, and the better the HCM vendor is at handling these functions for you, the better equipped you'll be to manage, support, and optimize your workforce. To learn more, contact Connect & Simplify and discover all the benefits of insourcing a team of HR and HCM professionals. We look forward to supporting you and your business!