Blogs

Navigating HCM Systems Can Seem As Though You're In a Foreign Country. You need a Qualified Guide!
For those who don't know, my husband and I are avid motorcyclists! He's the driver and trip planner, I occupy the back seat and get to select hotels, restaurants, sights to see, etc. We're a good team.
Shanghai 2017
The world was a different place. Welcoming. Friendlier. Safer. On a visit to Beijing and Shanghai, we couldn't resist a 2½ hour ride through the streets of Shanghai via motorcycle. Our driver was Lee. Jim sat behind him and I rode in the sidecar!
Lee spoke very little English, but he was able to convey his proud ownership of his cycle! Any, he knew his way around the maze of Shanghai.
Shanghai the World's third-largest city, has a population of over 26 million people! Imagine trying to move 26 million people during rush hour each day! People on busses. People on bicycles and subways. People on scooters, motorcycles, AND people on foot!
Lee picked us up at our hotel right on the sidewalk and off we went. Shanghai is a beautiful city. A mix of centuries-old architecture and some of the tallest buildings in the world!
If we hadn't become accustomed to looking both ways multiple times before crossing the street, I would have been terrified of being just feet off the ground in the sidecar! Not to mention, neither Jim nor I spoke Mandarin!
I can't help but compare that experience to many of my Human Capital Management clients.
HCM systems, you've probably heard about them. Choosing the right vendor can seem like a daunting process. Much like our journey through the unfamiliar streets of Shanghai.
You may have heard horror stories from colleagues who have jumped into the HCM world with both feet, only to have them share horror stories about long, expensive implementation times, paying for components they're not using, support issues, disappearing sales reps, the list goes on.
HCM systems are a maze of features, implementation, training, and support. You need to know what to expect. What your up-front costs will be ongoing. What kind of training to anticipate. Is it onsite or virtual. And support before, during, and after the sale.
Much like our driver Lee, you need to feel comfortable the HCM vendor you select has done this before – they know how to navigate your priorities! They will make this happen for your company!
Finding the right HCM vendor for your company takes time. Don't let this technology scare you. I've worked with hundreds of companies over my 20 years with 'the 'benefit Companies and seen lots of technological advances over the years.
Lee gave us a delightful tour of Shanghai. We made a good choice. We did our research. We did our homework. We asked lots of questions. You can too….
When considering HCM vendors, don't be afraid. Ask lots of questions.
We will continue to explore the advantages changing to HCM technology can have in future episodes of this blog, stay tuned.
ABOUT THE AUTHOR —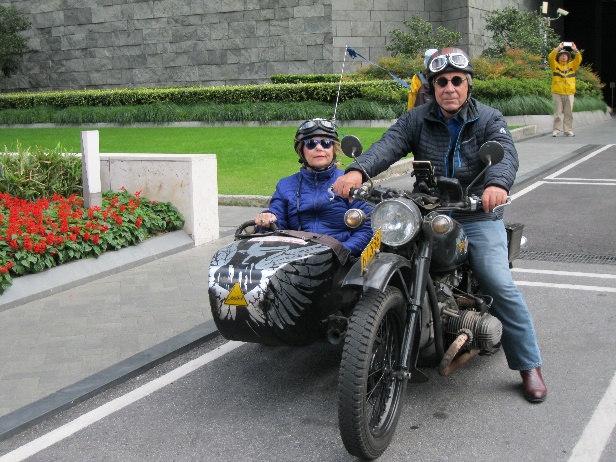 Barb Schnoll is a Subject Matter Consultant in Payroll, Time Labor Management, HR, and HCM systems. Her prior history also includes many years of business-to-business consulting, sales, implementation, and training in technology. She has seen payroll has evolve from writing checks, paying taxes, and producing W2s to a full-fledged, cloud-based HCM system offering mobile access from smartphones to employees and new hires.
In her spare time, she loves traveling, motorcycling, and new this summer, discovering the endless trails of UTVs.
She has represented The Benefit Companies for 20 years.
Connect & Simplify™ partners with UKG (Ultimate Kronos Group) to offer best-in-class Payroll Software, Kronos Time Clocks, HR, and HCM solutions.
Call Barb at 262-207-1999 ext. 217 and visit www.connectandsimplify.com.